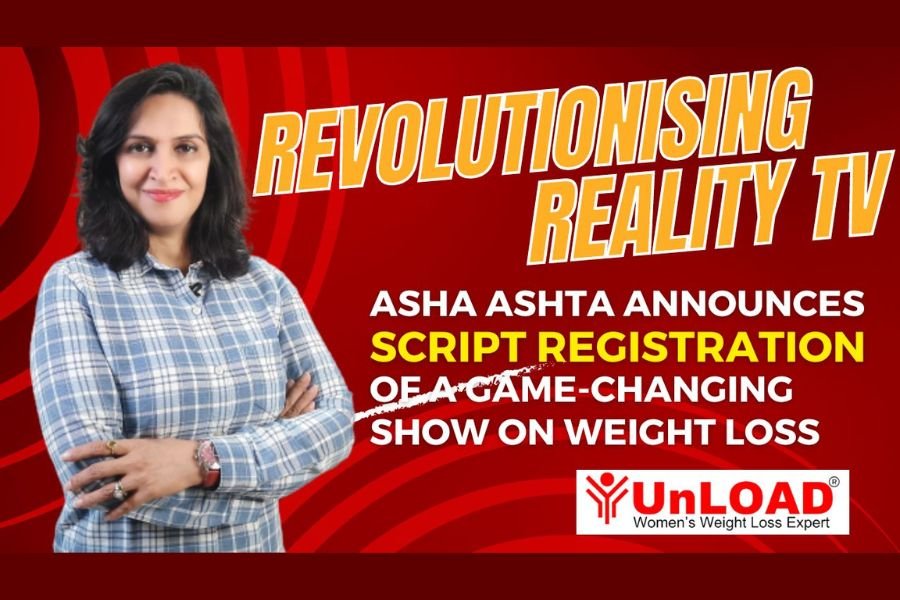 Mumbai (Maharashtra) [India], May 31: Guru Asha Ashta, a talented and visionary Women's Weight Loss Expert, is proud to announce the official registration of their groundbreaking script for a captivating reality TV show. The Synopsis of the Script has been registered with The Scriptwriter Association, Mumbai, on 15.May.2023. This extraordinary project, a Live Reality Show on Weight Loss, is set to revolutionize the television landscape, captivating audiences worldwide with its innovative concept and engaging storytelling.
Titled "UnLOAD: The Ultimate Weight Loss Challenge", this script promises to redefine the genre, pushing the boundaries of what viewers expect from reality television. With its unique blend of entertainment, suspense, and relatable characters, this Reality TV Show is poised to captivate a diverse audience, delivering thrilling and thought-provoking content.
Inspired by thousands of Women and their Family Members, UnLOAD would take an unprecedented approach to the reality TV format, offering a fresh and exciting perspective on everyday life. Through carefully curated challenges, authentic relationships, and unexpected twists, the show aims to entertain, inspire, and foster a sense of connection among viewers.
This reality TV show aims to help individuals achieve their weight loss goals through a competition-based format. The contestants will be competing to see who can lose the most weight in a set period of time (90 Days). This competition will challenge not only the physical ability of the contestants but also their mental fortitude and dedication to achieving their goals. Obesity and Excess Weight are the real challenges that threaten mankind today, and then there are numerous self-proclaimed Weight Loss experts or nutrition experts who claim to have a remedy, or some secrets, for Weight Loss. Primarily, therefore, this show is conceptualised to be a Clash of Several Weight Loss Experts, Dieticians and Nutritionists, with several actual Contestants having been assigned, as a Team, under their mentorship. The basic idea is towards the Weight Loss of these Women Contestants who would be participating in this show wherein they would be losing their weight on camera.
The registration of this script marks an important milestone for Asha Ashta, who is also the Innovator of UnLOAD, who has poured her heart and soul into crafting a story that will resonate with viewers around the globe. Drawing from her extensive experience, for over 7 years, with more than 12000 Women from 57 Nations, Asha brings a wealth of creativity and expertise to this exciting project.
As Asha Ashta, the Founder of UnLOAD, explains, "I am thrilled to announce the registration of the synopsis of my script for UnLOAD: The Ultimate Weight Loss Challenge. This has been a labour of love, and I am incredibly proud of the unique concept that I've developed. I believe that this Reality TV Show, UnLOAD: The Ultimate Weight Loss Challenge, has tremendous potential to captivate audiences and redefine the reality TV landscape, offering an immersive and unforgettable experience for viewers. It is surely poised to see unprecedented TRP since it would combine entertainment with health so that it would be Real Healthertainment. This would be the only Reality show which would transform human lives for the better."
With the script now registered, Asha Ashta is actively seeking partnerships and collaborations with production companies, networks, and streaming platforms that share their passion for groundbreaking television. This opportunity presents a chance for industry professionals to join forces with a visionary creator and bring an extraordinary reality TV show to life.
Asha Ashta is available for interviews, meetings, and discussions with potential partners who are interested in exploring the immense potential of this Reality Show, UnLOAD: The Ultimate Weight Loss Challenge. For media inquiries, please contact Asha Ashta at www.ashaashta.com.
ABOUT ASHA ASHTA
Guru Asha is a Women's Weight Loss Expert. She is the Founder and Chairman of UnLOAD, a bootstrap proprietorship startup which was established in 2017. UnLOAD runs Prize winning Weight Loss Challenges in 90 Days and 30 Days Formats, which are conducted life online. Headquartered in Mumbai, UnLOAD, the Only Unique Weight Loss Program, encourages women to eat normal regular Meals several in a day without any measurements and limitations and still lose significant weight. UnLOAD is a Registered Trade Mark, and IAS, USA has certified UnLOAD as ISO 9001:2015. About 12000 Women from 57 countries have participated in 40 UnLOAD Weight Loss Challenges so far.
If you have any objection to this press release content, kindly contact pr.error.rectification[at]gmail.com to notify us. We will respond and rectify the situation in the next 24 hours.