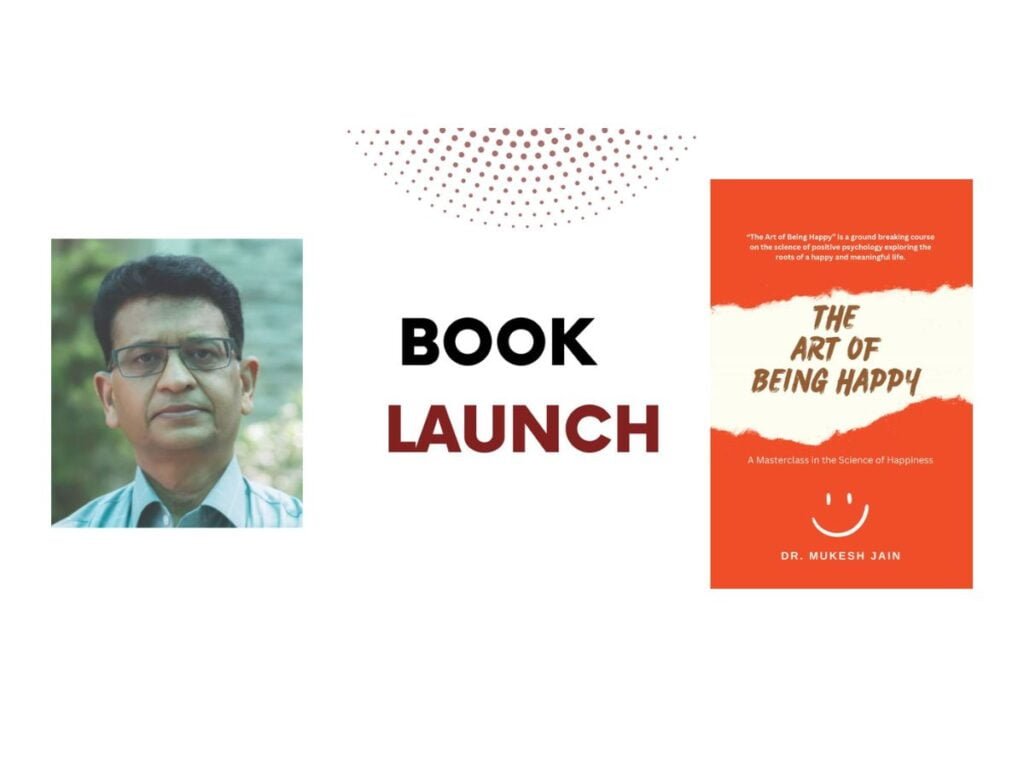 Renowned IPS Officer and Author Dr. Mukesh Jain Unveils a Groundbreaking Book on the Pursuit of Happiness
New Delhi (India), June 23: Happiness is no longer a mystery shrouded in anecdotes and guesswork. In his transformative book, "The Art of Being Happy: A Masterclass in the Science of Happiness," Dr. Mukesh Jain, an IPS officer and accomplished author, explores the science behind true happiness. Drawing on the latest research from positive psychology, neuroscience, and evolutionary biology, Dr. Jain presents readers with practical exercises and research-backed insights to help them tap into their own happiness and live more fulfilling lives.
"The Art of Being Happy" challenges the commonly held belief that happiness is dependent on chance or external circumstances. Instead, Dr. Jain asserts that happiness is a skill that can be developed through intentional actions and shifts in thinking. With a wealth of knowledge and experience in the fields of positive psychology, business, and public administration, Dr. Jain guides readers on a transformative journey towards success, inner peace, and fulfillment.
With an engaging writing style, Dr. Mukesh Jain takes readers on an exploration of happiness, sharing valuable strategies and tools for personal growth. The book delves into various aspects of happiness, including fostering social and emotional well-being, building meaningful relationships, and finding purpose and meaning in life. Dr. Jain's approach goes beyond mere theory, offering practical activities that readers can actively engage in to experience the benefits firsthand.
"The Art of Being Happy" stands out among other books on happiness for its grounded approach. Dr. Jain reinforces his concepts and strategies with scientific research, drawing from psychology, neurology, and evolutionary biology. This evidence-based approach enhances the book's credibility and helps readers better understand the underlying processes that contribute to happiness.
Dr. Mukesh Jain, an IPS officer of Madhya Pradesh cadre, brings a wealth of experience and knowledge to his writing. His academic achievements in engineering, business, and public administration reflect his expertise in the subject matter. As a visiting faculty member at numerous business schools and training institutes, Dr. Jain is well-versed in the art of teaching and guiding individuals towards personal growth and well-being.
In addition to "The Art of Being Happy," Dr. Jain is the author of the bestselling book "A Happier You: Strategies to achieve peak joy in work and life using the science of Happiness." This earlier work delves into mindfulness, gratitude, and positive thinking, providing readers with additional resources to embark on their happiness journey.
"The Art of Being Happy: A Masterclass in the Science of Happiness" is an invaluable resource for anyone seeking a deeper understanding of happiness and a more fulfilling existence. Dr. Mukesh Jain's expertise, combined with his ability to present complex concepts in an accessible manner, makes this book a must-read for individuals ready to take control of their own happiness.
If you have any objection to this press release content, kindly contact pr.error.rectification@gmail.com to notify us. We will respond and rectify the situation in the next 24 hours.